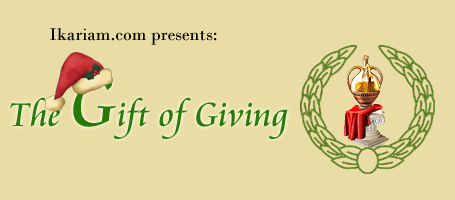 Well, I thank everyone for their concern about my absence from the boards. I also hope you all had fun with my little Halloween contest, I know I certainly did!
Coming up is one of my favorite holidays, but my arthritis is acting up, and I can't get the boxes down from the attic with my decorations and books. I'd like to see if some of you rapscallions could stop your looting and pirating and focus on helping an old lady get some cheer back in the holiday.
Boughs of Holly
First, I need a banner for the boards. Because I like to look at it during the season, I need this
right away
. Send me a board PM with your banner by
December 18th at 12:00 (game time)
. I'll choose my favorite and reward the winner with a nice Ambrosial eggnog.
Remember, if the size isn't right it won't be chosen no matter how festive it is! All submissions should be the exact same measurements as the one we have now,
474px wide by 76px high.
It needs to mesh well with the boards, as well, so don't go adding obnoxious background colors!
Here's the base image, feel free to work with this:
The 12 Days of Christmas (Trivia)
I'm also going to be running a little contest on the boards to see how much knowledge you all have kept from your schooling. HA! Well, how about trivia and such about this here game then?
As soon as I can find my reading glasses I'll be posting the trivia questions in a response to this thread, so be ready! There will be 12 questions, given out over the course of a few days. Not everyday though! I'm too old to wait around daily for you, it gets tiring. The first three people to answer them ALL correctly will win a prize. No cheating, no peeking and the answers must ALL be right in order to win a prize.
The Spirit of Giving
Finally, as this is the season of giving, I do believe I'd like to see some major donating going on. I'll be keeping an eye on each server to see who donates the most from now until Christmas.
Be warned! If I catch you cheating you'll get a taste of what discipline was like in my day, before these namby pamby wimps got to the government.
There just might be Christmas cookies in it for the people who help me celebrate the holiday season ;). So get crackin' and stop reading this thread, already!