Easter time is approaching the city of Midea. Meanwhile some of the inhabitants started to decorate their homes. The spirit of Easter was coming to Midea and the children became more and more exited. Will they see the Easter bunny this year? Will they find many chocolate eggs? Many of them were running through the city to check for good hiding spots to observe the best egg-hiding-places.

One among them was Thalia. Thalia was a 5 year old girl living in Midea. Her father was one of their best spies, so he was often gone from home to do his duties. His sister Alexandria visited them often to play with her. She loved her auntie. It was always a fun time with her. Together they solved interesting riddles and Alexandria, who worked at the academy, was able to teach her many interesting things.
This year, Thalia was determinedto find and see the Easter bunny. She was able to find some good spots, where she could catch him. For the past years the Easterbunny must have been too clever, but not this time. This time Thalia had a very good plan.

The morning of Easter Sunday Thalia woke up very early. She felt exitement because this time she was determined to see the Easter bunny.
She found a parchment on her shoes and picked it up. She started to read it:

"Oh noooo!", the little Easter bunny had no other chance but to see how all
his colourful little eggs tumbled out of his basket. Deperately he was
running around to find his eggs. But all were gone.
Dear Thalia,
can you help the little Easter bunny to retrieve his lost colourful eggs?
Walk around the city and find all the lost eggs. How many eggs will it be?

When you have found them all, please bring them back home. We are waiting for you.

Lots of love,
Alexandria
Can you find all the lost colourful eggs in Midea? Be careful, some can be hidden very, very well!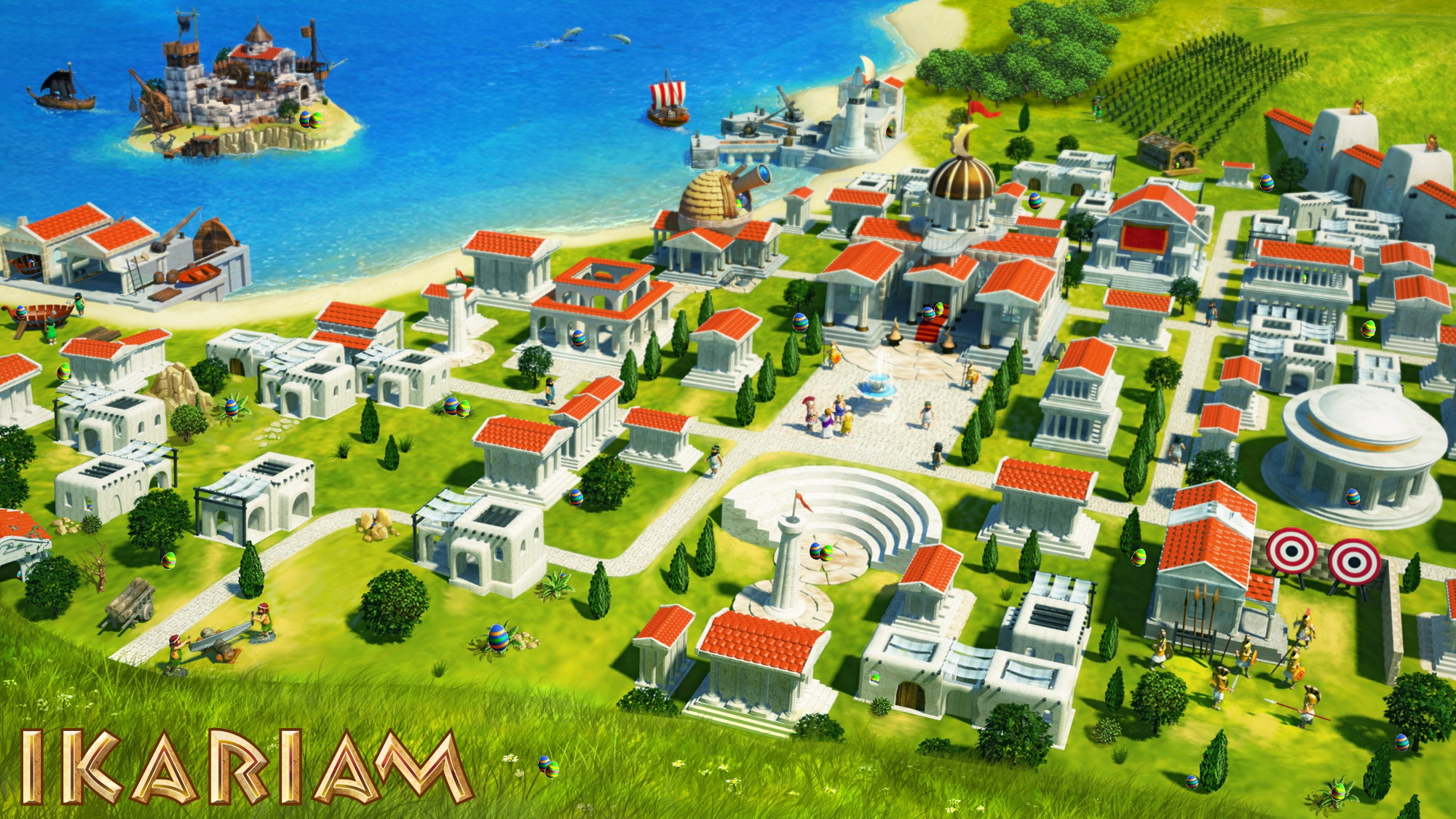 Send us the number of eggs which you have found.

We will choose 6 winners from among those who have a correct solution:
a voucher for 30 ambrosia


This you have to do to get your name into the draw:
You have to play on one of the US Servers

Only one transmittal per person is allowed

Your account can't be banned

Find the correct solution and send it via e-mail to fesiely@ikariam.de with the subject: [Easterevent] until 4th april 2018 11:59 p.m. [game time]

Your e-mail

must

contain the following information


Solution of the riddle




Player ID (You can find your ID by clicking on the bottom "options" ingame




Boardaccount




Server



Eligibility requirements
The duration of the competition is like it is mentioned in the text above.
Members of the staff, their family, members of the voluntary team or employees of cooperative companies are excluded from the participation.
If a transmittal does not comply with the in the mentioned criteria in the competiontext, it will be invalid and disqualified.
- only US server are participating in this event
- per player only one transmittal is allowed
A transcription of the competition into material or monetary values, as well as a tranfer of the prize to a third party are not possible.
Gameforge will record the information of participants only in line with the duration of the competition. After the competition everything will be deleted.
The legal proces is excluded. Furthermore, the general terms and conditions of Gameforge 4D GmbH will apply.
The post was edited 14 times, last by Fesiely ().